Celebrate Independence Day with Intiwhiz Hospitality Management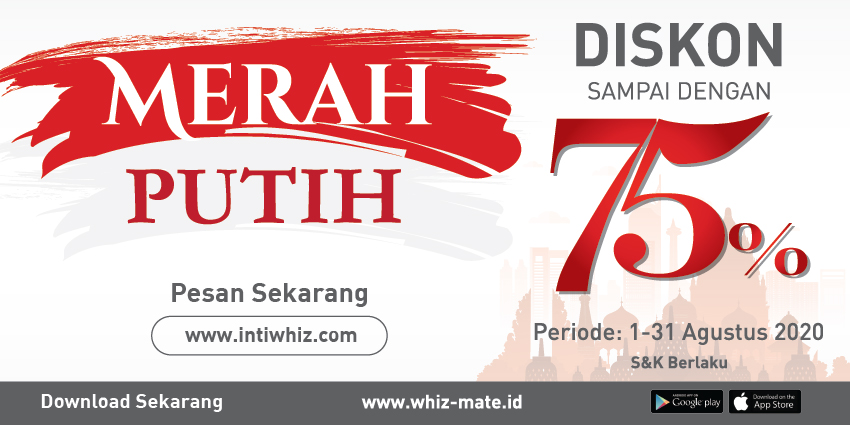 "Celebrate Independence Day with Intiwhiz Hospitality Management "
Jakarta, August 2020 - Indonesia will celebrate the 75th Anniversary on 17 August 2020. Intiwhiz Hospitality Management offers variety of attractive promotions and social media photo contest throughout the August.
Intiwhiz Hospitality Management offering a special discount of up to 75% by booking directly on www.intiwhiz.com only in August. Guest may select various hotel in Indonesia where are mostly near with attractive tourism destinations such as beach and mountains also close with local shop to buy "oleh-oleh". Our hotels still prioritize to ensure guests' well-being, safety and comfort by providing the hygiene standard protocols in all area including single unit air-conditioning facility in the room to allow the air to be kept clean inside and at the same time will provides comfort for the guests.
To add more the excitement in celebrating the Independence Day, Intiwhiz Hospitality Management also held a photo contest on Instagram. The main prizes of the photo contest are special merchandise and vouchers to stay at Whiz Prime Hotel Pajajaran Bogor, Whiz Prime Hotel Sudirman Makassar, or Whiz Prime Hotel Darmo Harapan Surabaya. Participants can join by uploading photos wearing shades of red and white in one of Intiwhiz's hotel chain and using the hashtag #IntiwhizMerahPutih, and invites three friends to take part in the contest. The announcement of the winners of the photo contest will be on 31 August 2020.
Creating a travel plan or destination bucket list is necessary to ensure the perfect trip. Intiwhiz Hospitality Management offers "Advance Holiday Voucher", which guests can purchase this voucher and book their rooms in advance. The ultimate benefit is guests can redeem the voucher and stay at the hotel anytime until next year on 31 July 2021.
With "Advance Holiday Voucher" guests entitled for extra benefits such as breakfast for two persons, discount up to 20% on F&B, discount up to 10% on laundry, and free late check-out. This voucher also perfect as a gift for your family and friends.
We are constantly updating our cancellation policy to reflect the latest developments related to COVID-19 and to offer our guests as much flexibility and planning comfort as possible. As the situation will evolve over the coming days, please check our news article on our website at we are ready for our hygiene and safety standard protocols in the room, restaurant and meeting rooms.
At the moment, our policy for guests allows free modification and free cancellation of all existing and new reservations in all hotel chains of Intwihiz Hospitality Management for stays until 31 October 2020 with period of booking until 30 September 2020. Guests also may modify their reservation into Room Vouchers or Advance Holiday Vouchers.
For more informations and reservations, please visit our website at www.intiwhiz.com and follow our Social Media @intiwhizintl.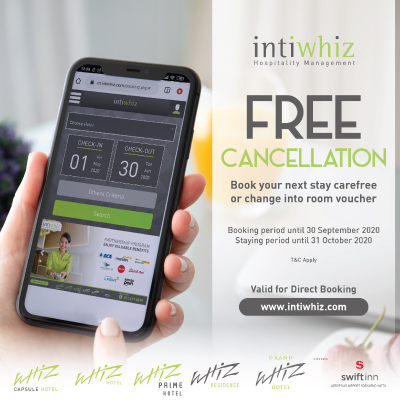 Social Media : Facebook Intiwhiz International, Twitter @Intiwhizintl, Instagram Intiwhizintl.