Intiwhiz Awarded The Best Indonesia Leading Local's Hotel Chain 2013 / 2014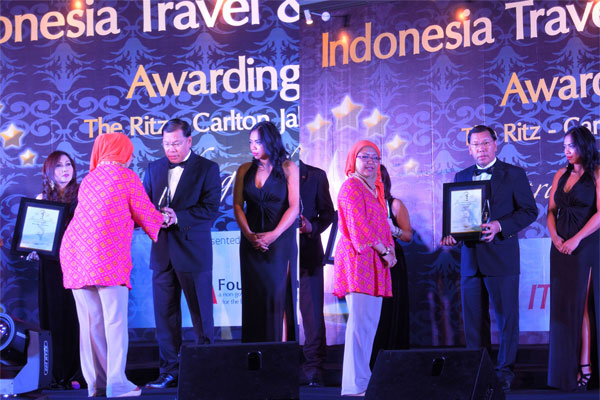 (Jakarta, 17/ 12) Intiwhiz Hospitality Management (Intiwhiz)has been chosen as the most sought-after hotel network with rapid growth in Indonesia capable of delivering satisfaction to all guests during their stay. The recognition becomes official after Intiwhiz achieved a prestigious award as Indonesia Leading Local's Hotel Chain 2013/2014 from Indonesia Travel & Tourism Award (ITTA) and the Indonesian Ministry of Tourism last evening (16/12).
This prestigious award was received by Moedjianto Soesilo Tjahjono as the president director and chief executive officer of PT Intiwhiz International. According to him, the award has become the pride of Intiwhiz, as it is a direct realization and recognition of public to Intiwhiz.
"The award as Indonesia Leading Local's Hotel Chain 2013/2014 is a spirit for us to deliver better quality service and to continuously spread our wings in the hotel business in Indonesia," Moedjianto said.
ITTA is a bestowal event with awards conferring to players in tourism and travel industries. The bestowal of these awards aims to increase the awareness of players in the industries on the importance of delivering quality service. This is deemed important looking at tourism sector is Indonesia's second biggest income contributor. This is also a power of brand that serves Indonesian market.
The assessment process during the ITTA event was done in an objective manner, and directly involved public. The assessment mechanism was based on online voting by public and a board of advisors consisting of experts and academicians from Indonesian travel and tourism industry.