Whiz Hotel Sudirman Cilacap Announces Its Rebranding to Whiz Prime Hotel Sudirman Cilacap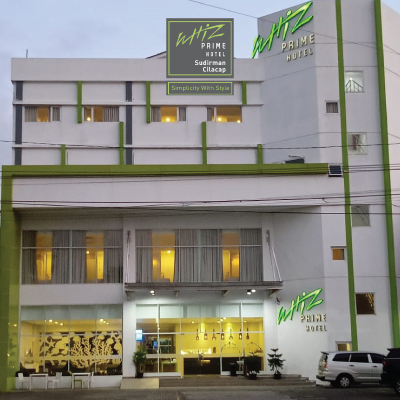 "Whiz Hotel Sudirman Cilacap Announces Its Rebranding to Whiz Prime Hotel Sudirman Cilacap"
Jakarta, July 2020 - Intiwhiz Hospitality Management is pleased to announce Whiz Prime Hotel Sudirman Cilacap, as the brand new three (3) stars hotel, effective on July 15th, 2020. Formerly known as Whiz Hotel Sudirman Cilacap, the two (2) stars hotel that has been operated for 3 years already become the preferred hotel's choice throughout the years in Cilacap.
Located at Jalan Jendral Sudirman in Cilacap, Jawa Tengah, Whiz Prime Hotel Sudirman Cilacap is conveniently close to the business districts and tourism destinations such as Teluk Penyu Beach and Benteng Pendem. Boasting 125 guest rooms in total, guests can enjoy a comfortable night's sleep in the room that offers mesmerizing views of the city or the ocean.
Whiz Prime Hotel Sudirman Cilacap features an array of facilities catering to guest's need including restaurant, outdoor gardens, free train station shuttle service, laundry service, 24-hours reception desk, Business Center, Meeting Room and Free High Speed Wi-Fi in all area.
Offering simply-furnished rooms, Whiz Prime Hotel Sudirman Cilacap provides various type of rooms consists of Single Room, Standard Room, Superior Room dan Deluxe Room. Complemented with top quality mattress and linen, single unit air-conditioning, hot water and power rain shower, LCD TV with multiple channels, private key access system, high speed Wi-Fi, sanitary kit, and mineral drinking water.
"We are thrilled to officially announces Whiz Prime Hotel Sudirman Cilacap with its three (3) stars hotel standard now will have a stronger presence and existence providing sharpen standard of services and facilities for guest and business travelers." said M. Sarwono, General Manager Whiz Prime Hotel Sudirman Cilacap.
Home to various dining options, Ayodha Restaurant at Whiz Prime Hotel Sudirman Cilacap specializing in Ayam Parahyangan - roasted chicken has a juicy tender taste complemented with fresh vegetables and sambal also Brekecek Pathak Jahan - the mouthwatering savory yet spicy soup with main ingredient the typical fish in Cilacap named Jahan Fish cooked with herbs, along with the refreshing Mango Thai – made from a refreshing mixture of mango and whip cream, and Healthy Green Juices – made from pineapple, pok choy, leaving sweet and sour aftertaste which will quench your thirst and makes you healthy.
The hotel features two (2) venues, Rama Meeting Room and Shinta Meeting Room that can accommodate for private business meetings seminars and conferences or other social occasions with a capacity of up to 80 persons. Meeting Room Package starts from IDR 50.000/pax including standard sound system, venue, and coffee break.
"Currently, we also running 'We Prioritize Your Health' campaign which we complemented our services and facilities with healthy standard protocol to create a comfortable experience during the guest stay at Whiz Prime Hotel Sudirman Cilacap." explained M. Sarwono, General Manager Whiz Prime Hotel Sudirman Cilacap.
Whiz Prime Hotel Sudirman Cilacap invites people to celebrate this special moment and experience the special room promo starts from IDR 275.000 nett/room/night and discount up to 60% for guests whose birthday is in July.
For more information and reservation, please call +62 282 539 0888 or email at reservation.wpscilacap@whizprime.com. Visit www.whizprime.com and follow social media account @whizprimecilacap.
Contact Person :
Email : sm.wpscilacap@whizprime.com
Social Media : @whizprimecilacap