The Grand Whiz Kelapa Gading Ballroom Grand Opening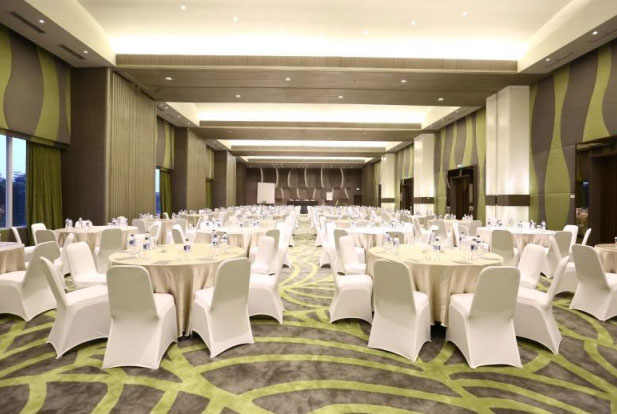 Jakarta (22/05), Grand Whiz Kelapa Gading is a four star hotel located in North Jakarta with has 322 rooms and 13 meeting rooms, on Thursday (22/05) evening launched The Ballroom with a capacity of up to 850 people and built on a land area of 1800m2 that can meet the needs of the MICE (Meeting, Incentive, Convention and Exhibition) in North Jakarta area and surroundings. The ballroom has a height of 9 meters with shades of gray and green interior style gives the impression of luxury and elegance that can give the impression of the spirit in the organization of meeting. Not only that, The Ballroom can also be divided into three (3) separate rooms in accordance with the need to hold a meeting at the time, ranging from 1 Ballroom with a capacity of up to with 301 people with an area 301.4 m2. Then Ballroom 2 which has a capacity of up to 251 with an area of 251.2 m2 and 3 Ballroom with a capacity of up to 197 people with an area 197.8 m2.
The event with the theme of Brazilian Vaganza started at 18:00 until finished and invite the media and corporations in the areas of Jakarta, the main event is the opening night of The Ballroom also gave appreciation to the corporation by giving Best Corporate Award 2014. Other facilities to complete event held and guests staying at the hotel located at Jalan Bukit Gading Raya Kav. 1 North Jakarta are Sapphire Restaurant, Ruby Lounge, Swimming Pool, Outdoor Gym & Jogging Track and Children Play Arena which will not be forgotten by the guests during their stay in Grand Whiz Kelapa Gading
Hotel located in the heart of North Jakarta is very strategic, because it is close to the International Hospital, shopping centers, industrial estates, Mall of Indonesia (MOI) and Arta Gading Mall (MAG), so it is appropriate for the businessmen and families who want a weekend getaway for shopping, because the Kelapa Gading area has been established by the Government of Jakarta as one destination culinary tourism in Andhra Pradesh. For further information please contact Grand Whiz Hotel Kelapa Gading in the phone number 021 -45873355 or visit our website www.grandwhiz.com.