Whiz Prime Hotel Basuki Rahmat Malang is Officialy open In November 2017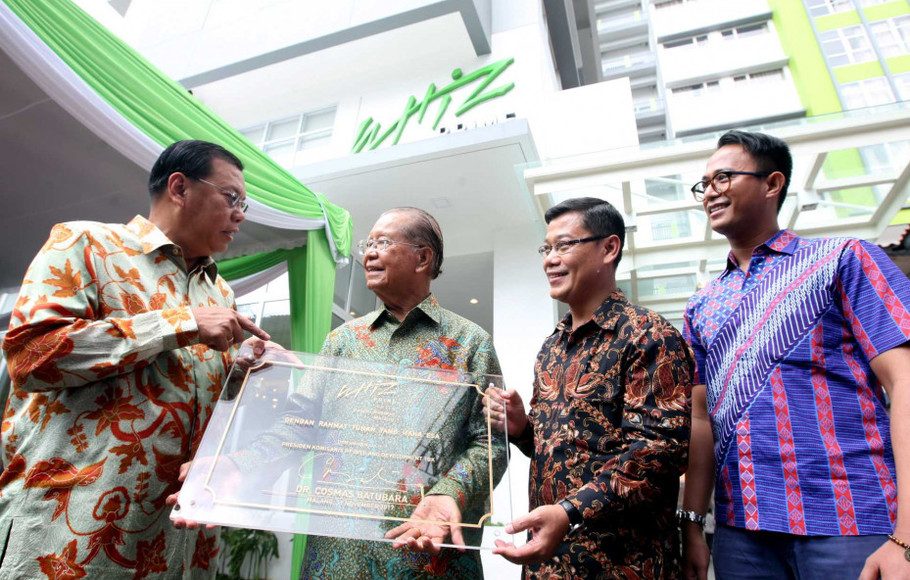 November, Malang – Entering the month of November, Intiwhiz Hospitality Management has now realizing its 21st Hotel under its management with WHIZ PRIME HOTEL BASUKI RAHMAT MALANG on 11 November 2017. This Hotel is designed to become the answer for those wishing to enjoy high quality 3 stars Hotel that can offer not only comfort, but also strategic location and competitive prices in Malang. It is hoped that this Hotel can become your new primary choice whenever you visit the city famous with its Beautiful Malang motto.
WHIZ PRIME HOTEL BASUKI RAHMAT MALANG is situated in a highly strategic location at Jl. Basuki Rahmat 85-87 Malang. It is a location where guests can enjoy 5 minutes access the city plaza, the train station, as well as various business and shopping districts of the city. The Hotel features a collection of 156 guest rooms with 2 different room types (Superior and Deluxe), as well as a other complementary facilities such as swimming pool, meeting room, spa, and internet corner. This Hotel is also equipped with meeting room that can accommodate up to 100 pax, suitable for chasing down the targeted market segments of the Hotel MICE (meeting, incentive, convention, and exhibition) and Leisure.
IntiWhiz Hospitality Management was founded in 2008, and we opened our first Hotel in 2010 with Whiz Hotel Malioboro Yogyakarta. Since then, our collection has grown into 3 distinctive brands: Whiz Hotels, Whiz Prime Hotel, Grand Whiz Hotel, plus 1 additional Swift Inn brand, with 20 hotels spread across major cities in Indonesia (Jakarta, Bogor, Tangerang, Cilacap, Mojokerto, Surabaya, Semarang, Yogyakarta, Bali, Balikpapan, Makassar, Manado, Lampung, Pekanbaru, and Malang). It is with great pride and gratitude that we announce that IntiWhiz Hospitality Management is launching our 21st Hotel with WHIZ PRIME HOTEL BASUKI RAHMAT MALANG on today, Saturday 11 November 2017," said Mr. Moedjianto S. Tjahjono - President Director of INTIWHIZ HOSPITALITY MANAGEMENT
"We hope this meeting can become a focal point of a positive relationship between our team here in Intiwhiz Hospitality Management and Whiz Prime Hotel Basuki Rahmat Malang with our media friends. With the support of our media partners and colleagues, we sincerely hope that WHIZ PRIME HOTEL BASUKI RAHMAT MALANG can gain wider recognition among the public. Of course we will always continue to maintain and increase our level of quality for the guests visiting our Hotels. After this Hotel, Intiwhiz Hospitality Management is also planning to operate Whiz Prime Hotel Khatib Sulaiman Padang, and we are targeting that by the end of 2018 Intiwhiz Hospitality Management will have 37 Hotels spread across Indonesia under our name." said Edi Syumardi – Corporate GM Sales & Marketing INTIWHIZ HOSPITALITY MANAGEMENT"
"The City of Malang has enjoyed a rapid expansion, especially in its business and tourism, and that has become one of the major reasons why Intiwhiz chose to expand in the city with Hotel Whiz Prime Basuki Rahmat Malang. Featuring high quality facilities combined with strategic location, we hope our Hotel can become the favorite choice for many travelers visiting Malang. During the opening period, guests can enjoy a very special price of Rp. 333.000,- nett including breakfast for two." said Azis Sismono – Hotel Manager WHIZ PRIME BASUKI RAHMAT MALANG.
For more information, please contact (0341) 3030-888 or visit www.whizprime.com/malang for the best rates.