Hybrid Meeting with Style Package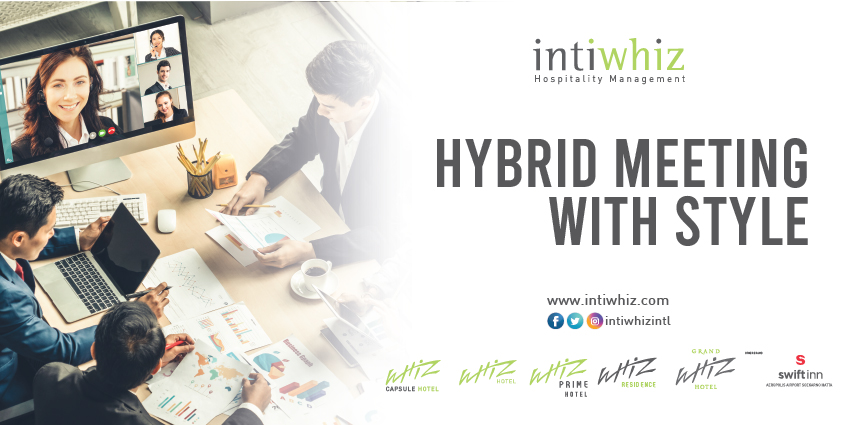 "Intiwhiz International presents the Hybrid Meeting with Style Package"
Jakarta, September 2021 - The current pandemic situation requires companies and businesses to seek adjustments, especially for physical meetings that are usually held for both internal and external needs. As the term currently known is hybrid meeting, which is a meeting concept that combines offline and online meetings.
Starting in September, mostly intiwhiz International hotel chains presented Hybrid Meeting packages by following standard health protocols. The various offers from each hotel make this meeting option even more to choose from. With prices starting from 50,000 net per person with a minimum of 10 people, you can hold meetings with colleagues by getting various benefits such as internet wifi access speed, use of meeting rooms for 4 hours, complimentary tea and coffee, and there will be IT staff who will assist you. Stand by on duty when needed during the meeting.
All hotel chains under Intiwhiz management are equipped with a CHSE (Clean, Health, Safety, and Environment) certificate, and the implementation of strict health protocols before entering the hotel which can make guests feel calmer and more comfortable to come to make events and stay.
For more information and to order the Hybrid Meeting with Style package, click here and follow our social media @intiwhizintl.
Contact Person :
Ariesya Devitha Bouty
Corporate Marketing Communications Manager
Email : vitha@intiwhiz.com
Social Media : Facebook Intiwhiz International, Twitter @Intiwhizintl, Instagram Intiwhizintl.