Intiwhiz Hospitality Management Launches Whiz Mate Loyalty Program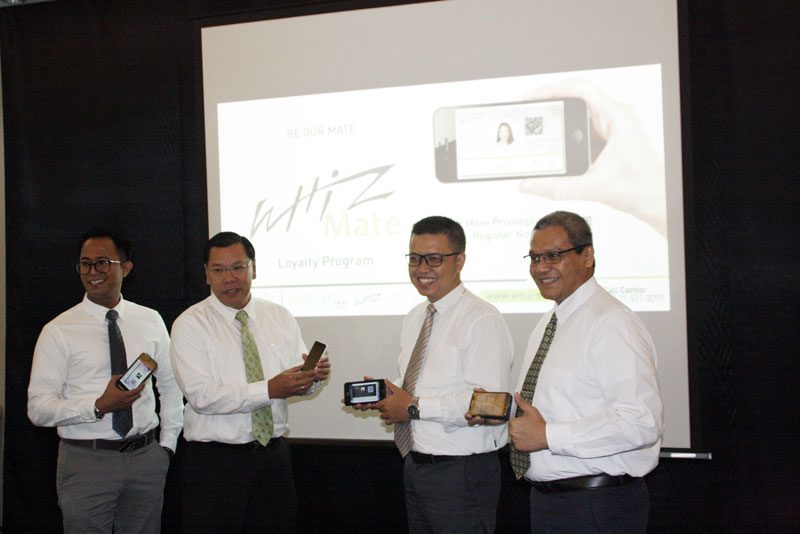 IntiWhiz continues our tradition in bringing new innovation to deliver you the best Hotel experience with the launch of our Loyalty Program on 10 October 2016, called the "Whiz Mate." This program brings many special benefits to our guests such as easier room reservations, best rates guarantee, point rewards, and many other privileges, making it the best way to enjoy our Hotels.
Just like its name, Whiz Mate was designed to become a service that make guests feel like they are always welcomed like a friend in our Hotels. Every time a Whiz Mate member comes to visit any of our Hotels, they can enjoy great privileges such as discounted rates up to 50% off.
Edi Syumardi (Corporate GM Sales & Marketing) explained that, "Everyone can easily join as a member of Whiz Mate for free: we are making sure that the registration process is very effortless and can even be done with mobile phone—both Android and iOS—making our loyalty program very accessible and easy to enjoy." Additionally, guests can even use their Google Plus accounts to sign up, and members can customize their e-member card with various personalized styles such as colors and themes according to their preference.
Whiz Mate features three (3) membership tiers, with each tier granting a member different benefits and privileges: Green, Gray, and White. Members who are making more reservations in our Hotels will be upgraded to higher tier of membership and can enjoy better benefits and advantages, such as greater point rewards, discounts, offers, and more. Whiz Mate was created to greatly complement the staying experience for our guests, in addition to our other various programs and features, such as "My Travel Mate."
Tito N Munawar, Operational Director of IntiWhiz Hospitality Management has this to say, "Up to the end of 2016, IntiWhiz Hospitality Management is ready to manage and operate up to 22 Hotels all across Indonesia. Programs such as Whiz Mate are part of our effort to ensure that guests can enjoy our Hotel experience the best way by providing them easier way to enjoy our offerings with various conveniences such as easy online or direct bookings."
Moedjianto S. Tjahjono, the President Director of IntiWhiz Hospitality Management, added: "Our Company is very proud to have launched Whiz Mate as part of our deep appreciation to all guests choosing to enjoy the Hotel experience provided by IntiWhiz Hospitality Management. We hope that this program can give our guests only the best staying experience whenever they are staying in any of our Hotels."