WHIZ HOTEL FALATEHAN JAKARTA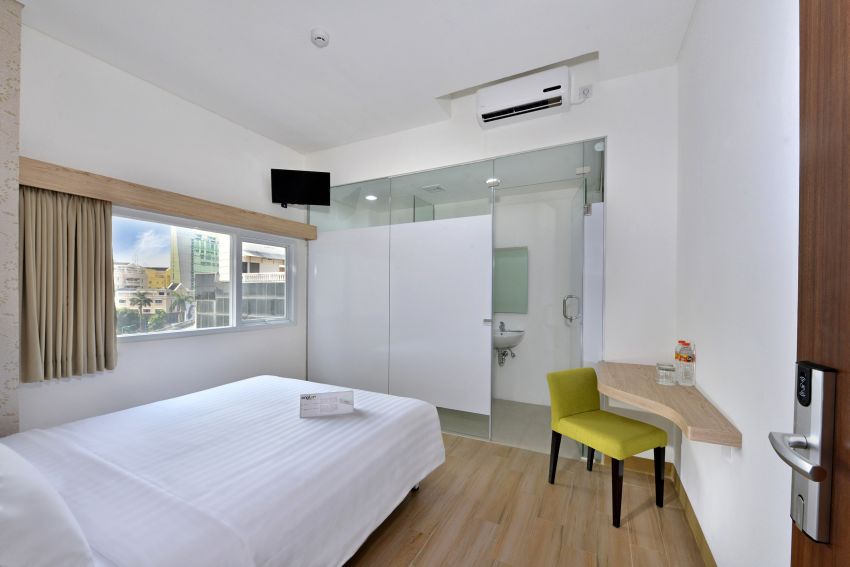 YOUR MAIN ACCOMMODATION CHOICE RIGHT AT THE HEART OF BLOK M ENTERTAINMENT DISTRICT IN JAKARTA
Located at South Jakarta, Intiwhiz Hospitality Management is very proud to present the 18th Hotel under our management that also serve as the 5th Hotel in Jakarta: WHIZ HOTEL FALATEHAN JAKARTA.
WHIZ HOTEL FALATEHAN JAKARTA is situated at Jl. Falatehan I no. 40, only a short walking distance away to the BLOK M area. BLOK M is a very famous, very iconic area in South Jakarta where numerous shopping centers, entertainment/night life venues, as well as various public service areas such as bus terminals can be easily found, making it a very ideal place for any Jakarta visitor to stay in during their time in the city, especially with a very vibrant and active atmosphere often available in the area.
WHIZ HOTEL FALATEHAN JAKARTA features a collection of 52 guest rooms divided into 2 room types: SINGLE and STANDARD, with breakfast area and internet corner also available for guests to enjoy. For a more pleasant experience, guests can also enjoy specifically tailored breakfast menu designed with the unique and authentic local Betawi style during their stay.
During the opening period, WHIZ HOTEL FALATEHAN JAKARTA offers best rates starting from Rp. 333.000,- nett for all types of guest rooms that include breakfast for 2. This offer is valid only up to August 2017; for more information, please call +62 21 2277 4433 or visit www.whizhotels.com or www.intiwhiz.com, where you can also the best rates available for all our Hotels across Indonesia.
"We are confident that WHIZ HOTEL FALATEHAN JAKARTA can become a main Hotel choice for Jakarta travelers, especially considering its combination of high quality facilities and strategic location. We are aiming for an occupancy level up to 60% for the next 5 months period with the majority of it capturing the individual traveler market. We are also targeting a position of top 3 Hotels based on room occupancy level, and for that we hope that we are able to gain support from all our partners and clients, including our media friends," said Edi Syumardi as the Corporate GM Sales & Marketing of INTIWHIZ HOSPITALITY MANAGEMENT, "Additionally, we would like to announce that there are additional upcoming 4 Hotels that will be opened in various major locations: Whiz Prime Hotel Malioboro Yogyakarta, Whiz Prime Hotel Khatib Sulaiman Padang, Whiz Prime Hotel Sudirman Makassar and Whiz Prime Hotel Basuki Rahmat Malang. Our objective is to have 37 Hotels spread all across Indonesia under our management in 2018."