CORPORATE & MEDIA GATHERING FOR GRAND WHIZ POINS SQUARE JAKARTA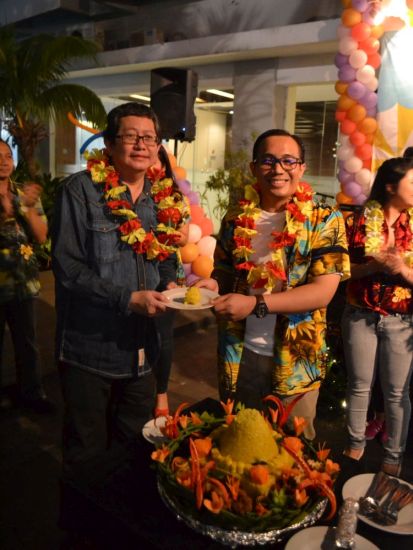 As a form of appreciation to our friends and partners, Grand Whiz Poins Square Jakarta held the Corporate and Media Gathering event on 28 July 2017 as part as a series of activities done to celebrate the first anniversary of Grand Whiz Poins Square Jakarta that fell on 30 June 2017. The event was a form of thanks from Grand Whiz Poins Square to the Top Supports of Corporate and Media that so far has provided the biggest amount of support to the Hotel.
The event itself went low-key, starting with a foreword from Mr. Soni Harsono as the General Manager, before followed by the cutting of Tumpeng by Mr. Harsono to be given to the representative guests of invited Corporate and Media partners. The acoustic music from Second soul accompanied the on-going of the event to its conclusion.
"This event is a form of our thanks to all the Corporate and Media partners that in the past one year have shown us tremendous support and cooperation with Grand Whiz Poins Square Jakarta. We hope that after this event our relationship with them can grow even further, and that Grand Whiz Poins Square will always be their choice for stay whether for leisure or business," said Mr. Soni Harsono.
About Grand Whiz Poins Square Jakarta
Grand Whiz Poins Square Jakarta is located very strategically at Jl. Kartini No. 1 Lebak Bulus Jakarta. The Hotel is located on the same area as Mall Poins Square and is in close proximity to various business and shopping centers. Grand Whiz Poins Square Jakarta is situated only 2 kilometers away to Pondok Indah Golf Driving Range and Padang Golf Pangkalan Jati and is also supported by the access to Off Ring Road Highway Road Jakarta – Bintaro (JORR) that will make it even easier to enter and exit the area.
Grand Whiz Poins Square features 159 guest rooms with 4 distinctive room types: Standard, Superior, Deluxe, and Premier. The Hotel is also complemented with 5 meeting rooms, restaurant, 24 hours room service, spa, swimming pool, and fitness center.